Six seventeenths have passed, you're sick with change.
They urge you 'Find a craft. Switch the cage.'
You toil, aching back tilted over tender sprouting soil.
In the shower you kiss your bronzed hands on a whim and wonder,
If I plant them, will they grow?
One day at a time.
You scoop out your emptiness while your very veins crave,
Remembering the years you spent tethered to shades.
Six seventeenths past, Mother, stricken at your chains.
She grieved. 'It kills me to see you. You're so thin.'
You laughed, dark like a crow, creaking and frayed.
On the way out you snatched up her ruby ring and wondered,
Will Cash Converters still be open?
One day I'll stop.
You lay splattered, supine, seeking Elysium and finding
A barren reverie. All Self. Sacrificed for that roiling oblivion.
Six seventeenths will pass, you'll be stuck at the game.
They'll greet you 'One year sober. Congratulations.'
You'll show your teeth, decayed and afraid.
When the heavy talisman of hope slips, you'll wonder,
How long will this hook stay stuck in my brain?
The days are mundane.
Mediocrity will thwart your arcane shame.
Stumble, fall, but do not forget; you are living unlocked in colour.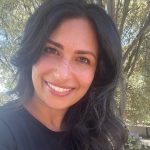 Kyla Hetherington
Kyla Hetherington is an Emergency Services dispatcher by day, and a covert writer by night. She is a first-year undergraduate student who spends her free time admiring the ingenuity of other writers and chaperoning Larry the Labradoodle while he smells all the smells.