Contrary to popular belief, the big bad wolf is not only present in fairy tales and Little Red Riding Hood is not safe once she grows up – just look at the awful fate her grandmother suffered. It's something I've learnt the hard way living in New York City: the city that never sleeps. It's such a romantic notion, personifying a place and idealising the bustling nature of commodity it harbours. But no one takes into consideration what this lack of slumber really means – or rather, how fictitious it is. The city does sleep. Sure, the lights may never go out; the traffic may never come to a total standstill; the streets may never be completely void of life. But civilisation does sleep. It must in order to remain civilised. The glowing eyes of Broadway do not sleep and, as a result, I am wary of the walk back home before I even make it to the bar.
My name is Genevieve Thompson – daughter of Greg and Elisa Thompson, who can be reached at +1 (929) 478-0358. I'm on my way to meet a man I know as Daniel Montague, at The Dead Rabbit – a bar on the corner of Water and Broad Street in Lower Manhattan. My name is Genevieve, it's 8pm, and already I'm being followed by a pack of wolves.
I keep my eyes trained on the way that my feet collide with the cement and focus on the audible crunch of the litter underfoot; anything to diminish the glowing eyes illuminating my path. Some of them shout confidently in their moonlit disguise, beads of saliva falling into their unkept beards or dripping down their stubbly chins. Others simply make comments under their breath – a soft growl that sends shivers every which way. The goosebumps rising on my skin aren't a result of the brisk fall weather, but rather their tones which mock genuine admiration and concern.
'Well, hello there darling. How are you tonight?'
'Oh my, aren't you beautiful?'
'Can I help you out there at all, sweetheart?'
It's impossible to even tell where each comment comes from, and instead they all mould into an aggressive shouting of the one word that dominates the hunt – SLUT.
*
The room is lowly lit as I step into The Dead Rabbit, boding well for the performance I have planned this evening. Without the spotlight on me, I'm given the opportunity to characterise myself as what they want me to be – the effervescent angel seeking a simple life. Yet at the same time, I'm expected to remain an enigma – giving just enough of myself away to leave them wanting more. Never too much. That is the most important part. Especially when it comes to me, whose very core houses so many opinions not appreciated by the silent but relentless majority.
The bartender smiles at me and looks me up and down as I take a seat at the bar – I pretend not to notice. I order an old fashioned, which earns an odd look from my new friend and the comment 'but, isn't that a man's drink?' from the wolf a few stools down. I smile politely and thank the bartender for the glass, rewarding the other with nothing but an inward roll of my eyes. This night is already off to a great start. Downing my glass, I watch the hands on the clock of the wall opposite marching ever so slowly and taunting me all the same.
*
Although I've only seen a carefully curated scrapbook of his life – friendly pictures and exaggerated biographical notes that would suggest one doesn't have a single clue who they actually are – I know it's him as soon as he walks under the low-lying arch of the entrance. I chose the venue; it was a risky move, and not somewhere I'd usually find myself, but I thought it would make me exude a carefree attitude. He looks right past me as his eyes scan the room – I knew he would. Not because he doesn't recognise me or because his eyes have betrayed him, but as a part of that one-player game. He's trying to make me feel insecure, as though my physical appearance doesn't match up to what he saw and liked online. I know better, but I won't let him know this – at least not yet.
'Evie?'
I didn't realise we knew each other well enough to already be using nicknames, but I'll go along with it.
'Hi! Dan?'
'Hey, how are you?'
Is he asking because he genuinely wants to know, or is it merely a box that he's ticking? Assuming the worst and in an attempt to remain on the same wavelength, I don't give a genuine answer.
'Great, thanks – and you?'
'Good. A bit chilly outside – isn't it?'
Oh god, we're already onto the uncomfortable small talk. Of course, it's fucking cold, it's November for heaven's sake. Have I not been enthusiastic enough? I should probably work on that.
'Tell me about it! Shall we order a drink to warm up?'
Anything to distract me from the social awkwardness and total lack of connection. Anything to speed up this arduous process. I suppose I'm not really giving him a chance – he could be lovely; he could just be nervous. But unfortunately – for both him and me – I've been through this far too many times to not be sceptical. Not to mention, all I can think about is that dreaded walk home through the metropolitan wood.
'So, I'm not gonna lie – you're actually the oldest chick I've ever dated.'
I sit and ponder this. His profile definitely stated an age of twenty-seven. Interesting.
'Oh, really? How come you did in fact match with me then – if you don't mind me asking, of course?' I mind asking. I am a whole two years younger than him, and suddenly I dread where this conversation is going.
'Most chicks around my age want children – I'm not ready for that. But your profile said no children, can't have them, huh?'
'I just don't want to…' I don't even get the chance to finish that thought.
'Oh, strange, but cool. You'll probably change your mind though, hey? Accidents happen too. You wouldn't get an abortion, would you?'
*
I've known this man two hours, and already that's more than enough. It's clear we have different views on the world and I suddenly feel sick to my stomach. And, just like that, I feel his bare hand breaking the smooth flesh of my abdomen and digging deep within the depths of my soul. He doesn't retract it until he has a firm grasp on my bleeding womb; untimely ripped. He pockets it, without any regard for its delicacy – as though it's merely spare change that he'll ultimately forget about and find in the bottom of his washing machine weeks, maybe even months, down the track. Stitching me back up with his piercing gaze, I sit in silence; mourning what is no longer mine to have or to control.
The conversation thankfully changes course, yet it doesn't take any turn for the better. My modern Frankenstein is back to what he does best. I watch his gaze flicker from my lips to my breasts; I watch his eyebrows scrunch in disappointment; I watch as he mentally enlarges them by at least two cup sizes. For a moment, I think I even see his eyes glow. All in a minute's work. If circumstances were different, I might have found it impressive. As I tuck my dirty blonde hair behind my ears, I see him turning it a few shades lighter – turning my skin a little more sun kissed. And as I speak, I see him searching his briefcase for a needle and thread – anything to stop the drone of words leaving my mouth. I am his monster – both before he has had his way with me and afterwards.
I can see him clear as day, subconsciously moulding me into his own creation; something that could never naturally exist. But there's nothing I can do to prevent it. At that moment, I feel the weight of Anne, Maria, and Diana; of Zelda and Zora; Virginia and her Judith; of Edmonia and Artemisia – of the women that history neglected. The flames of their stories extinguish as the candle wax wanes. They are perched on my shoulder, floating around my head, clinging to my ear. I hear their whispers of consolation in anguish, and I hear their voices; a collective roar of feminine force. My skull holds the whirlwinds of absolute rage manifesting as a single tear on my cheek upon an otherwise poised demeanour. To compromise my composure would be interpreted through a funnel of innate femininity. Innate not in womanhood, but in the gaze we are met with.
'Oh, what's wrong?' The man I barely know looks at me with a crooked brow.
'Oh nothing, just a really long week.' I'm struggling to not let my emotions get the better of me.
'On your period, huh?'
It's shock. That's what this feeling is. I struggle to contain myself any longer, despite the fact that we are in a very public place that is filled to the brim with male customers. I imagine myself on the stake, their fiery wrath licking my hard skin as it curls around my wrists. The pain is there, a distant stinging sensation – the kind you can forget about when your mind is occupied. My mind is always occupied, and they don't like it. But I don't let it encompass me. Don't let it devour me in one foul swoop. It means I'm still here, and I'm still me. I drown out their growls and protests, barely even able to make out their unshaven beards and bare feet behind the gates of my prison cell. I instead focus on the calming sounds and sensations of my own bare feet on the hot embers as I shift my weight from one foot to the other in discomfort. Judging by their behaviour you'd think I've got pit of snakes erupting from my skull, ferociously snapping on command and wounding my next victim. But in contrast, the hair on my head, although messy, is an ordinary dirty blonde. In fact, the base of my neck still hosts the ringlets of a young girl – innocent and unsuspecting.
'Evie, you good?'
He hasn't even taken notice of the pure anger and hatred brimming in my eyes, and the men at the tables surrounding us are looking on in amusement. I won't flee. I'm not a damsel in distress. I can do this.
'Yeah, all good. I think I should probably get going, though – it's getting pretty late.'
'Oh, so soon? At least let me walk you ho–'
'Somehow, I think I would be safer without you.'
I don't wait for a response; I don't even look back to gauge his reaction. I walk out of the bar calmly and with confidence, back onto the uncivilised streets. Back to the rest of the wolves. The eyes are still there, glowing at me in the darkness in their threatening way. But they're silent. They wouldn't dare utter a single word, for they'd be met with the beast.
*
I make it back to my apartment safely, all twelve blocks alone. I change into my pyjamas, grab a tub of Ben and Jerry's cookie dough ice cream and sit on the couch I have bought in a living room I pay for myself. Staring out the floor-to-ceiling windows at the dazzling lights and full moon, I smile to myself. I'm okay here, exactly as I am. It'll be a long time before I go on another date with a man. And I realise that I am completely okay with that; with having myself – away from the faceless monsters whose glowing eyes have turned me into a beastly thing myself.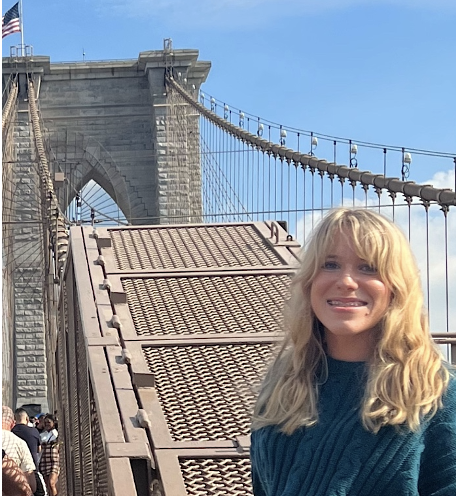 Jasmine Oke is an English and Creative Writing major previously published in both The Quarry and Grapeshot. Experimentation and the exploration of feminine identity are what excite her most about fiction but, when not reading or writing, Jasmine is also an avid consumer of period dramas, theatre, and live music.