In the garden's delicate foliage
His springtime rays enthralled
Blinding me to decaying undergrowth
I was beguiled – foolish and senseless
Artful speech burgeoned laughter
Away from aging.
In blooming times
His allure fostered
Insecurities out to live
My wonder masked his faults.

"Careful."
Hush, I told whispering insects
The signs were small
His embrace slowly became thick vines
A stranglehold on my conscious
Revealing black thumbs disguised as green fingers
Encased long-twined anchors into soils of dryness
To compacted root balls, dying.
September's light winds dissipated,
Too quickly, seasons moved.

Humidity's summers crept
Where mould began to grow
Spotting mildew corroded our house
Vinegar, we took as medicine
Acidic and sour to one another
Your rising tempers flared – unbearable.
Gnats gathered in warning
You became the owner of my lands
A master of tropism. I learnt not to grow in light,
But via veiled deceits darkness.

"Don't forgive him!"
Hush, I tried to soothe my worries.
When grappling thirst hit
From your ashes of destruction
You would come with water, new promises
Forgiveness soothed cautiousness
Led astray in your tortuous garden maze
Lost, I let you treat me as a weed
To prune pieces of myself by your selfish gardening
Actions you reasoned with love.

Month passing, my leaves fell
Bruises of red, orange hues – limbs weak
Became dependent on your ties
Barren days approaching, actions piercing daily
Relief to nursery's empty land, no bud willed to foster
In a home, resentment grew.
Browning shrubbery
My white roots turned yellow
Resistant lost, no spring sparks
Awakened to the denial of your control.

"Seek help!"
Hush, fighting against the ringing
Autumn created mud flats for sinking bodies
Where sludge flakes occupied crevices of peace
Rough sow thistle I became, sharpened my leaves to hurt back
Wrathful for blood to be returned
Far gone – our garden bred bitterness.
Friends, family oblivious, unaware of who you truly are
Scared to make them question
Whose truth should be believed?

At Winter's edge that came abruptly
Your wandering interests
Was my door to escape
Yet still, hesitation kept me shackled
To the rot we lived on.
Eyes once filled with love or what is it ownership?
Only showed icy disinterest in my being.
Stem stretch in trail, fearful at my independence
Left me wishing for even painful summer's heat return
Conditioned I had become from us.

"Be strong!"
Hush, I scoffed at my comforting mind
In the early days of isolation
Only bitterness was left behind
Feeling hollow even in freedom
How easily he blocked my glaring judgment
Removed gloves dirtied
No trace of remorse
Hands clean
Away from sullied grounds, he ravaged.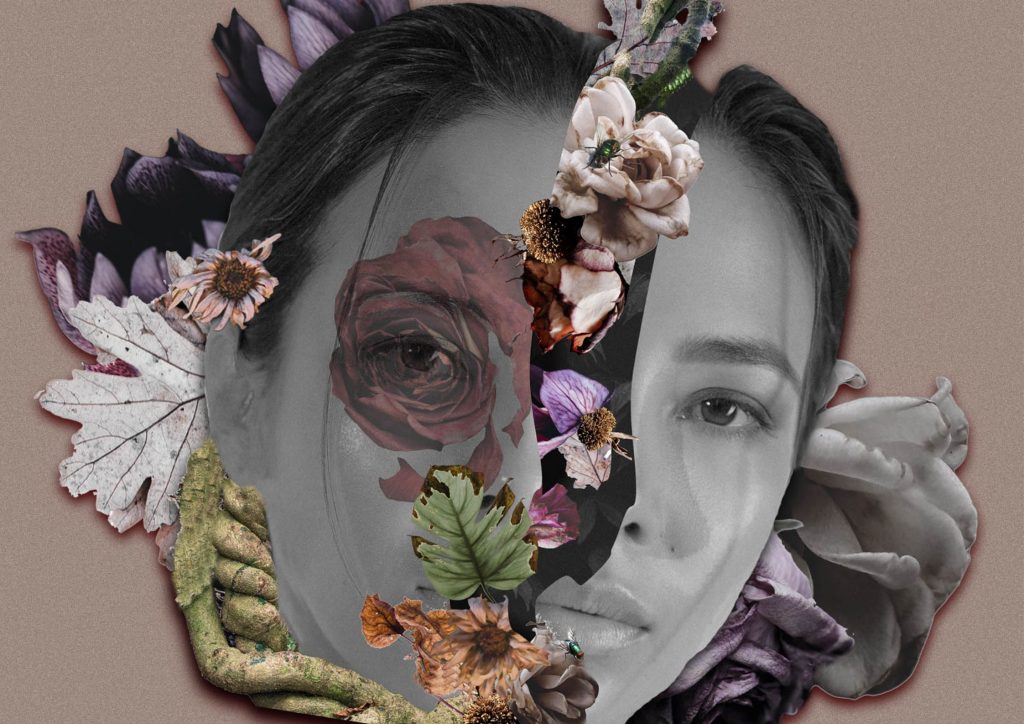 Cheirlene is in her final semester studying Creative Writing and Interactive Design. She enjoys experimenting with interactive storytelling in poetry and children's stories that explores identity and belonging. Summers in Philippines fostered her imagination from running in rice fields, picking coconuts, and having playdates with carabaos on her family's farm.